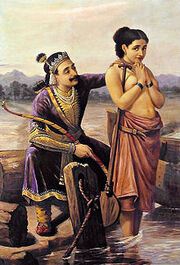 Satyavati was the daughter of Vasu, king of Chedi. She was raised a commoner, adopted daughter of a fisherman. She was the second wife of the Kuru king Shantanu. She was the mother of Vyasa the sage from a previous relationship but, with Shantanu, had two sons; Vichitravirya and Chitrangada. She forced Bhishma, Shantanu's son by his first marriage (to Ganga) to take vows of celibacy and revoke claims to the kingdom thus ensuring her lineage.
After Vichitravirya married Ambika and Ambalika, he died without issue. Vyasa provided them both with children; Pandu and Dhritarashtra. Thus Satyavati was both legally and biologically great-grandmother of both the Kauravas and Pandavas, albeit through different sons.
After Pandu ascended the throne, Satyavati and her two daughters-in-law went to live in a forest retreat, where they eventually died.
Family