Minos was the king of Crete in Greek mythology. He was the son of Zeus and the Phoenician princess, Europa. He was married to Pasiphaë, daughter of Helios, and with Pasiphaë had five significant children: Glaucus, Phaedra, Ariadne, Deucalion, Catreus and Androgeos.
Ancestry
Minos was the son of Zeus and Europa. Europa's parents were King Agenor and Queen Telephassa of Phoenicia. Among her brothers was Cadmus who married Harmonia (daughter of Aphrodite and Ares) and father of Semele (Thyone) and therefore grandfather of Dionysus. Telephassa's father was Nilus (god of the river Nile). Her sister married Belus, son of Poseidon and brother of Agenor.
In Mythology
After he ascended the throne of Crete, Minos struggled with his brothers for the right to rule. Minos prayed to Poseidon to send him a snow-white bull, as a sign of approval. He was to sacrifice the bull in honour of Poseidon but decided to keep it instead because of its beauty. To punish Minos, Aphrodite made Pasiphaë fall madly in love with the bull from the sea. Her child with this bull became the Minotaur.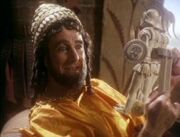 In the Underworld, Minos, his brother Rhadamanthys and his half-brother Aeacus (son of Zeus and Aegina), were the Judges of the Dead, with Rhadamanthys judging easterners, Aeacus judging westerners and Minos having the casting vote.
Descendants
Minos was the father of Ariadne, lover of Theseus and Dionysus' wife, Catreus, who succeeded him was killed by his own son to fulfil a prophecy, Phaedra, wife of Theseus, Deucalion, who succeeded Catreus and Androgeos, who died during an Athenian festival and caused Minos to declare war on King Aegeus.
Family
Preceded by:


Rhadamanthys

King of Crete
Mythic
Succeeded by


Catreus
See also