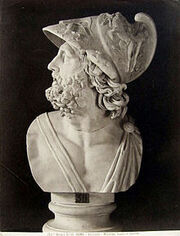 Menelaus, or spelled Menelaos, was the King of Sparta before and during Trojan War, in Greek Mythology. Atreus was his father, and Agamemnon, leader of the Achaean army at Ilion (the plains of Troy), was Menelaus' brother. The "kidnapping" of Menelaus' wife Helen by Paris, shepherd son of Priam, was the cause of that conflict.
In the Homer's two narratives
[
]
Menelaus is a character of both The Iliad and The Odyssey: at war against the Trojans in The Iliad, and in The Odyssey back at his castle in Sparta with his retaken wife, and in that book is met by Telemachus from Ithaca, who searches for news of his father Odysseus.
Description
[
]
Homer does not give Menelaus many epithets (e.g. "Brilliant", "Lord of Men", "who Gathers the Clouds", etc.) in The Iliad, but in The Odyssey it becomes known that he had red hair.
See also
[
]
Family
[
]