About this wiki | Policy | Affiliates | New pages | Categories | Wiki tutorial | Help pages | File gallery
The Myths and Folklore Wiki is a website for cataloging, studying, and celebrating the various mythological and folkloric traditions that have existed throughout humanity. Our goal is to create a website that serves as an open, easy access, and scholarly resource in the study of mythology and folklore. We plan to fulfill this goal by creating accessible, easy to understand articles on both mythology and folklore that are accurate and credibly sourced. Feel free to jump right in and begin adding material to existing articles or create new ones!
Explore further by visiting our About page, browsing our Mythology Hub, writing your own Blog, or socializing with other members through our Forum page!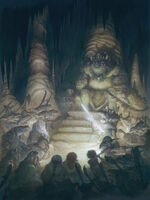 A goblin is a type of fairy originally from European folklore. The word "goblin" is originally derived from the Greek word "Kobalos," which translates into English as "Rogue" or "Evil Spirit." The word goblin has traditionally been reserved for any ugly fairy that is either mischievous or malevolent. Because of this, the term goblin has been used to describe a wide variety of creatures found in a multitude of traditions throughout Europe. The term goblin can be quite nebulous; and in some cases it can be unclear if a creature would be better described as a goblin, a fairy, or an elf. After the publication of J. R. R. Tolkien's The Hobbit in 1937 and The Lord of the Rings trilogy between 1954 and 1955, the view of goblins in modern Western fantasy began to change. Goblins were now commonly seen as their own distinct race of humanoid creatures. Typical features of goblins in modern fantasy includes a shorter-than-human stature, either a flat or long and hooked nose, bat-like ears, and either a mischievous or malevolent demeanor. Somewhat paradoxically, in the study of folklore the term goblin has at times been expanded to include a variety of creatures from non-Western traditions that are seen to be "goblin-like" by Western scholars.
You can help out this wiki by creating a new article; just enter the desired title of the article in the box below:
Fill in one of our multitude of stubs (Here or Here) or Clean Something Up.
If you have a special interest, you can go directly to specific Project pages to help create and expand on articles.
You may join one of various Projects working to complete high-quality collections of articles on various cultures' mythology:
Add images and videos to the New Files page! There are many beautiful depictions of mythological figures and deities that have survived throughout history - if you have one or can find one, please submit it to the collection!
Launched: February 14, 2006
Articles: 2,770
Files: 13,757
Total Edits: 153,196
Users (wiki-wide): 29,030,079
Active Users: 34

In Other Languages