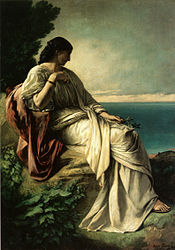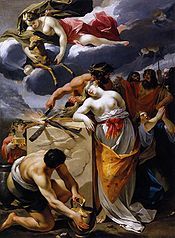 Iphigenia was the eldest daughter of Agamemnon and Clytaemnestra in Greek mythology. Her younger siblings were Electra and Orestes.
In Mythology
[
]
Sacrifice
[
]
Before the Greek fleet sailed to lay siege to Troy, Agamemnon, king of Mycenae and the Greek leader, earned the displeasure of Artemis by shooting either a sacred doe or pregnant hare. Artemis caused a wind to blow from Troy, trapping the Greek fleet in the bay of Aulis. Agamemnon was told the only way to absolve himself and set sail was by sacrificing his daughter. He told Clytaemnesta that Iphigenia would be betrothed to Achilles and she sent her to her father at the Greek camp. Once there, Agamemnon himself had her blindfolded and killed on the altar.
When Clytaemnestra found out, she vowed to avenge her daughter and this was one of the reasons she killed Agamemnon on his return from Troy
Other Accounts
[
]
In some accounts, Iphigenia is saved by Artemis and replaced by a deer, carried away by Artemis to the Taurican peninsula (modern Crimea), became a priestess of Artemis or willingly offered herself as sacrifice once her father's plan became clear.
Family
[
]