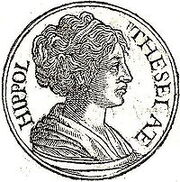 Hippolyta was the sister of Penthesilea and daughter of Ares. She owned a magic girdle. She was abducted by Heracles and fell in love with Theseus, eventually providing him with a son. She was queen of the Amazons.
Heracles and Theseus
When Heracles sought ought her girdle as part of his 9th labour, she willingly gave it to him. Hera appeared and spread a rumour Heracles was abducting her. Heracles, seeing the Amazon warriors approaching, took her onboard and gave her to Theseus as a wife. Later, the Amazon warriors were defeated by the Athenian forces in the Attic War in an attempt to get her back.
Family
Preceded by:
Aethra
Queen of Athens
Mythic
Succeeded by
None (Title Abolished)