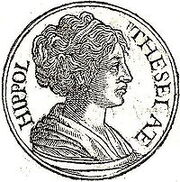 Hippolyta was the sister of Penthesilea and daughter of Ares and Otrera. She owned a magic girdle. She was abducted by Heracles and fell in love with Theseus, eventually providing him with a son. She was queen of the Amazons.
Heracles and Theseus
[
]
When Heracles sought ought her girdle as part of his 9th labor, she willingly gave it to him. Hera appeared and spread a rumor Heracles was abducting her. Heracles, seeing the Amazon warriors approaching, took her onboard and gave her to Theseus as a wife. Later, the Amazon warriors were defeated by the Athenian forces in the Attic War in an attempt to get her back.
Family
[
]
Preceded by:
Aethra
Queen of Athens
Mythic
Succeeded by
None (Title Abolished)