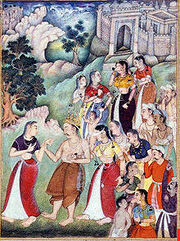 Gandhari is the daughter of Subala, king of Gandhara. She is the sister of Shakuni, as well as 99 other brothers who are killed when either Vichitravirya or Chitrangada of Hastinapur subjugated Gandhara with the aid of Bhishma. She was then married off to the future king of Hastinapur; the blind Dhritarashtra.
Her marriage outraged her sole surviving brother, disgruntled that his only sister be married to a blind man, further humiliating Gandhara. Shakuni then set about plotting to destroy the Kuru dynasty.
Despite the blindness of Dhritarashtra, Gandhari still loved him and voluntarily went blindfolded through her married life, deciding to share her husband's pain. She was the mother of the 100 Kauravas, amongst them, her eldest; Duryodhana.
Gandhari made only two exceptions to her blindfolded state; when she removed her blindfold to see Duryodhana. She poured all her power into that one glance, rendering Duryodhana's entire body as strong as iron. Krishna knew this and foiled this by meeting Duryodhana and asking him to cover up before meeting his mother.
All her sons died during the Kurukshetra War against their Pandava cousins and, upon hearing the news, through a small gap in the scarf by which her eyes were blindfolded, Gandhari's gaze fell on Yudhisthira's toe. His clean toe was charred black due to her wrath.
Gandhari loved her sons and exhorted them to follow the path of goodness. When Duryodhana approached her for her blessing before the war, she replied "May victory find the side of righteousness". She had a good relationship with Kunti, her sister-in-law and wife of Pandu, and mother of the Pandavas. She also consoled the Pandavas for their losses after the war.
Gandhari died with her husband and sister-in-law in a forest fire.
Family