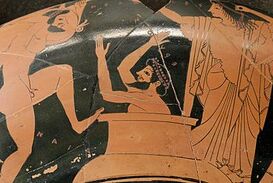 King Eurystheus of Tiryns and Mycenae, was the son of Sthelenus and Nicippe, and thus paternal grandson of Pelops and maternal grandson of Perseus (great-grandson on both sides, of Zeus), making him cousin of Theseus, Agamemnon, Menelaus and Heracles.
In Myth
[
]
Birth
[
]
According to a prophecy, the first-born grandson of Perseus would inherit Mycenae. Both Nicippe and Alcmene, Heracles' mother, were pregnant. However, Heracles, who was going to be born first, was the subject of Hera's personal vendetta, who sent her daughter, Eilytheia, to prolong Alcmene's labour. When Heracles was born, he was to late and the jealous and cowardly Eurystheus took the throne.
Twelve Labours
[
]
He is most well-known in myth as being the master of Heracles, setting him the 12 labors in punishment for having killed his wife. He was also notoriously cowardly, hiding in storage jars whenever Heracles brought back whichever creature assigned.
Family
[
]