Europa was a princess of Phoenicia in Greek mythology. Her parents were Agenor, son of Poseidon, and Telephassa. Her brothers were Phoenix, Cilix and Cadmus.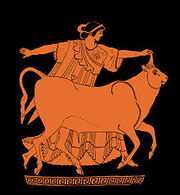 It is said that Zeus was fell in love and decided to seduce her; to do this he turned himself into a white bull. Europa saw the bull and eventually got onto its back; Zeus took this opportunity to abduct her by swimming to the island of Crete. He then revealed his true identity and Europa married Asterion, the King of Crete. Her descendants would continue to rule there for generations.
Her brothers and mother set out to look for her but each eventually gave up; Phoenix returned and succeeded Agenor as king, Cilix came to rule over Cilicia, Cadmus founded Thebes in Greece after burying Telephassa in Thrace.
Zeus later recreated the shape of the white bull in the stars, now known as the constellation Taurus. Europa, one of the planet Jupiter's four Jovian moons (along with Io, Ganymede and Callisto) was named after her, as well as the continent of Europe, rather ironically since, as a Phoenician, she was in fact, Asian.
Family
Preceded by:
Demodice
Queen of Crete
Mythic
Succeeded by


Pasiphae