Diomedes is the name of many characters of Greek mythology
Diomedes of Argos
[
]
Diomedes, son of Tydeus, is a Greek warrior character in Homer's Iliad, under command of Agamemnon. He was the leader of the Epigoni, the sons of the Seven Against Thebes. His father was offered immortality by Athena, but the offer was retracted when she saw Tydeus eat his enemies' brains. He later became King of Argos, succeeding his grandfather Adrastus (who numbered among the Seven Against Thebes). He is a fifth generation descendant of Endymion (his great-great-great grandfather) and Selene.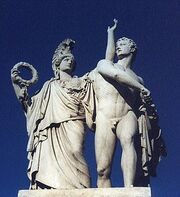 In Homer's Iliad
[
]
During the second day of the tenth year in the war (as told in the story), Diomedes is given triple strength by Athena, and also the ability to see the gods' intervention in the battlefield at Troy.
Preceded by:


Adrastus

King of Argos

(Biaid Portion)
Mythic

Succeeded by


Cyanippus
Diomedes of Thrace
[
]
Diomedes of Thrace was king of the Thracians who owned Flesh-Eating Mares, who were retrieved as part of Heracles' 8th labour. He was the son of Ares.
Preceded by:


Eumolpus

King of Thrace
Mythic
Succeeded by


Cisseus