Daedalus (Δαίδαλος) was a famous Athenian architect, inventor, and craftsman. He was the son of Metion of Athens and had a nephew named Perdix. When he killed Perdix out of jealousy, he fled to Crete with his son Icarus.
Perdix
Perdix was Daedalus' nephew. He was very skilled and invented the saw after he saw the way snakes use there jaws. This made Daedalus very envious and he threw Perdix off the Acropolis. For this crime he was placed in service of King Minos. While there he had a son Icarus.
The Labyrinth
Minos made Daedalus build the Labyrinth to imprison the Minotaur, the offspring of the Cretan Bull and his wife, Pasiphae (Pasiphae commissioned Daedalus to build a wooden cow so that she may mate with the bull). Thus the Minotaur was a half-man and half-bull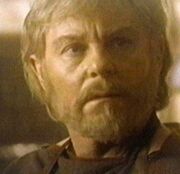 . Minos imprisoned the Minotaur and forced Aegeus, Metion's successor in Athens, to send tributes of 14 men and women for the Minotaur to fed on. The Athenian prince and hero Theseus volunteered to go, hoping to kill the Minotaur. Ariadne, Minos' daughter fell in love with, and wanted to help Theseus.
Daedalus and his nephew were imprisoned by Minos so that the secret of the Labyrinth would not be made public. Daedalus decided they could escape if he constructed wings. He made wings from feathers and wax. Before they escaped Daedalus warned Icarus not to fly to high for the sun will melt his wings and not to low for he will fall into the ocean. Icarus, enchanted by the sensation of flying, flew too high. The wax on his wings melted off and he fell into the water. Daedalus mourned his son and escaped to Sicily.
Family