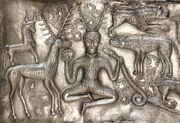 Cernunnos (known as Dīs by Romans) was the name given to the "Horned God" of Celtic mythology. He is interpreted as a god of fertility and hunting. He was a god of fertility, life, animals, wealth, and the underworld. The name itself is only attested once, on the 1st-century Pillar of the Boatmen, but he appears all over Gaul, and among the Celtiberians. Cernunnos is depicted with the antlers of a stag, sometimes carries a purse filled with coin, often seated cross-legged and often associated with animals and holding or wearing torcs, are known from over 50 examples in the Gallo-Roman period, mostly in north-eastern Gaul.
Not much is known about the god from literary sources, and details about his name, his followers or his significance in Celtic religion are unknown. Speculative interpretations identify him as a god of nature, life or fertility.
As the Horned God
[
]
In modern times, worship of Cernunnos in the Wicca religion has become popular. The Horned God represents the male part of the religion's duotheistic theological system, the consort of the female Triple Goddess of the Moon or other Mother Goddess. In common Wiccan belief, he is associated with nature, wilderness, sexuality, hunting, and the life cycle. He is generally regarded as a dualistic god of twofold aspects: bright and dark, night and day, summer and winter, the Oak King and the Holly King. In this dualistic view, his two horns symbolize, in part, his dual nature. (The use of horns to symbolize duality is also reflected in the phrase "on the horns of a dilemma.") The three aspects of the Goddess and the two aspects of the Horned God are sometimes mapped on to the five points of the Pentagram, although which points correspond to which deity aspects varies. In some other systems, he is represented as a triune god, split into three aspects that reflect those of the Triple Goddess: the Youth (Warrior), the Father, and the Sage.
See also
[
]