The Centaurs (also known as Ixionidae) are a race of creatures that are part human and part horse. Their first appearance comes from early Greek archaeological finds in which Attic vase-paintings depicted the centaurs as the torso of a human joined at the waist to the horse's withers, where the horse's neck would be.
The centaurs were spawned by the cloud nymph Nephele, who was raped by the impious Lapith, King Ixion, which is the cause of the Centaurs' hatred for the Lapiths.
They inhabited the mountains and forests of Magnesia. They lived in mountain caves, hunted wild animals for food and armed themselves with rocks, tree branches and later built weapons of their own.
In Mythology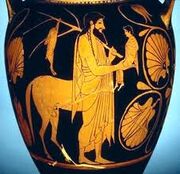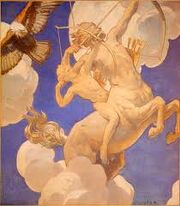 Centaurs are thought of in many Greek Myths as wild as untamed horses. Like the Titanomachy, the defeat of the Titans by the Olympian gods, the contests with the centaurs typify the struggle between civilization and barbarism.
The centaurs are best known for their fight with the Lapithae, caused by their attempt to carry off Hippodamia and the rest of the Lapith women, on the day of her marriage to Pirithous, king of the Lapithae, himself the son of Ixion. The strife among these cousins is a metaphor for the conflict between the lower appetites and civilized behavior in humankind. Theseus, a hero and founder of cities, who happened to be present, threw the balance in favor of the right order of things, and assisted Pirithous. The centaurs were driven off or destroyed.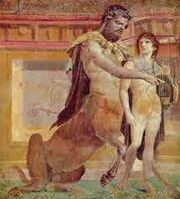 Another Lapith hero, Caeneus, who was invulnerable to weapons, was beaten into the earth by centaurs wielding rocks and the branches of trees.
Their habitat is land like valleys, prairies, etc.
Other centaurs
One ancient writer also mentions a tribe of bull-horned Centaurs native to the island of Kypros.
Known Centaurs
Latin spelling
Transliteration
Greek name
Description
Asbolus
Asbolos
Ασβολος
Asbolus was a diviner who read omens in the flight of birds.
Chariclo
Was the wife of the Centaur Chiron.
Chiron
He was the eldest and wisest of the Centaurs and also the ancient Trainer of Heroes.
Eurytion
Eurytiôn
Ευρυτιων
Eurytion was the name of two centaurs :

The first Eurytion was from Arcadia. He demanded to marry the daughter of Dexamenus of Olenus, either Mnesimache or Deianira.
The second one, was from Thessaly. He attempted to carry off the bride of Peirithous, king of the Lapiths, on their wedding day. However he was stopped and later slayed by Theseus and the army of king Peirithous.

Amycus
(Greek: Ἄμυκος) was the son of Ophion and attended Pirithous's wedding. He fought against Theseus and the Lapiths. He was killed by Pelates. The minor planet 55576 Amycus is named after this centaur.
Bienor
Biênôr
Βιηνωρ
Another of the centaurs that assisted Peirithous wedding. He was killed by Theseus.[1]
Centaurus
The father of the centaur race and friend of the Argonauts. The constellation Centaurus is named after this centaur.
Cyllarus
Kyllaros
Κυλλαρος
He was one of the centaurs to assist the wedding of king Perithious. He aided his fellow centaurs in the battle against the lapiths. He was severly wounded by a spear, subsequently dying in his wife's arms.
Hylonome
Hylonomê
Ὑλονομη
Female centaur and the wife of Cyllarus. She took her life after Cyllarus died to join him in the afterlife.
Rhaecus
He and Hylaeus tried to rape Atalanta. He was also killed by Meleager.
Dictys
Diktys
Δικτυς
He was one of the centaurs to assist Pirithous' wedding. He aided his fellow centaurs in the battle against the Lapiths. He escaped from Pirithous grasp, but slipped and fell off a cliff impaling himself on the top of an ash tree, causing his own death.[2]
Ichthyocentaurs
Pair of Centaur-related sea gods. They were half-brothers of Chiron and sons of Poseidon and Amphitrite.

Kentaurides

Female members of the Centaur tribe Kentauroi.
Nessus
Nessos
Νεσσος
He was a Centaur that fought in the battle against the Lapiths and survived.

Perimedes

Perimêdês
Περιμηδης
A son of Peuceus, who attended Pirithous's wedding and fought against the Lapiths.[3]

Pholus

Wise centaur and friend of Heracles.
Eurytus
Eurytos
Ευρυτος
Name for any of the two centaurs known as Eurytion.
Hylaeus

He and Rhaecus tried to rape Atalanta. He was killed by Meleager.

Petraeus
Petraios
Πετραιος
Arctus
Arktos
Αρκτος
Ureus
Oureios
Ουρειος
Mimas
Mimas
Μιμας
Peuceus
Peukeus
Πευκευς
Dryalus
Dryalos
Δρυαλος
Amycus
Amykos
Αμυκος
Gyrneus
Gyrneus
Γυρνευς
Rhoetus
Rhoitos
Ροιτος
Orneus
Lycabas
Medon
Thaumas
Pisenor
Melaneus
Phobas
Abas
Astylus
Lycidas
Areus
Imbreus
Eurynomus
Crenaeus
Aphidas
Lycas
Chromis
Helops
Aphareus
Nedymnus
Lycopes
Hippasus
Ripheus
Thereus
Demeleon
Phlegraeus
Hyles
Iphinous
Clanis
Dolyas
Phaeocomes
Teleboas
Chthonius
Pyretus
Echeclus
Erigdupus
Antimachus
Pyraemon
Bromus
Elymus
Styphelus
Latreus
Monychus
See also
References
External links
Gallery
Mythology and Folklore
Modern Art
Video games
Films
Animations
Comics